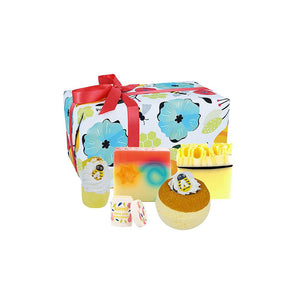 Bomb Cosmetics
BeeUtiful Gift Pack
Regular price
$10.00
Sale price
$19.99
You are bee-autiful
Pretty pastel shades of spring flowers attract the buzz of pure essential oils to soothe your senses and make bathing oh so sweet.
This Gift Pack Contains: Garden Party Bath Mallow - Indulge your senses with this recipe of love to sweeten and soften skin using heavenly scents and pure ylang ylang essential oil, renowned its ability to comfort and soothe the spirit.    Classical and pretty, this soft powdery scent captures aldehyde, jasmin, iris and spices at the opening. The rich heart mixes clove with amber, lily and peach. The complex musk finish captures sandal, amber and vanilla. 
Honey Pear Lip Treatment - A buttery treatment with coconut & almond oil to nourish and hydrate your lips.
Honey Bee Good Soap - A sweet song to make you feel good with pure cedarwood and clary sage essential oil to leave you humming.   Directions for Use   Bomb Cosmetics soaps can be used like any normal bar of soap but they are much milder. Simply rub the bar repeatedly between wet hands until you form a lather to clean your skin with. Alternatively, rub the bar on a sponge. With pure cedarwood and clary sage essential oil
Honey Bee Mine Bath Blaster - Been stung? Our buzzy bee will capture your heart and mellow your mind, body and soul with its creamy honey scent, its rich, moisturising cocoa and shea butter swirl, and its pure clary sage and ylang ylang essential oils to leave you feeling'bee'-loved.
Lemon Meringue Soap - Surrender to the delights of this foamy concoction including May Chang and Ylang Ylang essential oil which will leave your senses tingling from head to toe. A sweet, zesty scent opening with sparkling lemons, limes and green apples. The fresh heart of lily and lemongrass is balanced with creamy vanilla and soft musk.Bomb Cosmetics Gift Pack - Bee-autiful Honey I'm Home Bath Mallow 
Honey Pear Lip Treatment Honey Bee Mine Bath Blaster  Lemon Meringue and Stardust Soap