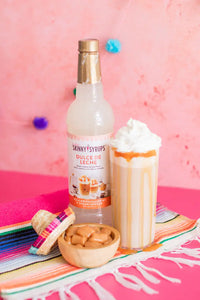 Skinny Mixes, LLC
Dulce de Leche Syrup
Regular price
$8.99
$0.00
Introducing the Sugar Free Dulce de Leche Syrup - a deliciously creamy addition to our Mexico Inspired Flavors Collection! It has a Rich, creamy, and buttery taste with a deep caramelized flavor that is both sweet and slightly nutty with a hint of vanilla. Infused with the rich and velvety flavor of traditional dulce de leche, this syrup is perfect for adding a touch of sweetness to your coffee, latte, tea, protein shake, smoothie, or even drizzling over your morning oatmeal.
Our 750 ml/25.4 fl. oz. bottle provides 25 servings of rich and creamy sweetness, perfect for satisfying your sweet tooth without any of the unwanted calories. Gluten-free, Kosher, and Keto-friendly, this syrup is sure to become your new go-to for adding a touch of indulgence to your day.
🚫 0 Calories. 0 Sugar. 0 Carbs.
💰 750 ml/25.4 fl. oz. Bottle - 25 Servings!
✅ Gluten-Free & Kosher.
🌱 Keto-Friendly.
Made in the USA.
---
More from this collection