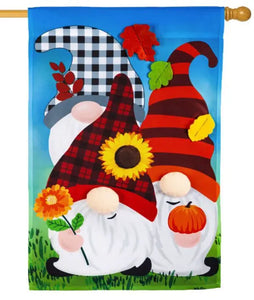 Evergreen Enterprises
Fall Gnome Trio Garden Flag
Regular price
$7.50
Sale price
$14.99
Keep your fall decorations whimsical with this decorative house flag. The flag shows three gnomes crowded together. One wears a red and black cap decorated with a yellow flower while holding a yellow flower. Another wears a red striped cap decorated with a yellow and green leaf while holding a small pumpkin. The last gnome wears a black and white plaid cap decorated with red leaves. The gnomes are set against a blue background. The image reads correctly from both sides. This decorative house flag is a fun, humorous way to decorate for fall.
Evergreen Lightweight Applique House Flags are crafted from soft, high thread count, 310-denier 100% nylon fabric, sewn with tight, detailed stitching. Embroidered enhancements are added for extra dimension and effect, yet still remain lightweight. Close up or far away, they look great. This design is double-sided and fits on any standard 5′ pole. Flag size 28″ x 44″.
*Flagpole not included.
---
More from this collection