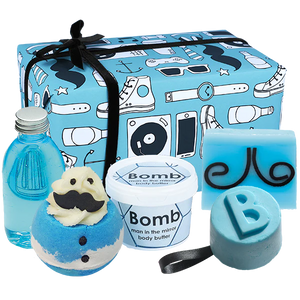 Bomb Cosmetics
New Age Hipster Gift Pack
Regular price
$19.99
$0.00
Did you like bathing before it was cool? Try our original collection for all your grooming needs and enough essential oils to leave you feeling fly.
This Gift Pack contains:
Sir Fizzalot Bath Blaster - This fearless fine fellow is the man of the moment! Bringing his gallant & heroic efforts full with Spearmint & Peppermint essential oils you'll be Bomb's noble warrior! To Battle!!
Yes Man Solid Shower Gel - Become a dapper chap with a rich, confident inspiring scented shower gel created for those who prefer a more civilised and gentlemanly wash to start the day with black pepper and spearmint essential oils.
Dapper Chap Soap - I moustache you a question, but I shall shave it for later! A stimulating soap with a fresh fragrance and pure black pepper and eucalyptus essential oils.
Man in the Mirror Body Butter - I'm Starting With The Man In The Mirror! Give your skin that change by smoothering it in Lemongrass & Black pepper fragrance complete with Rosemary & Black pepper essential oils.
Wave Hello Shower Gel - Wave hello to a revitalised you! With a fresh mint fragrance and pure spearmint and peppermint essential oils to revive and restore.