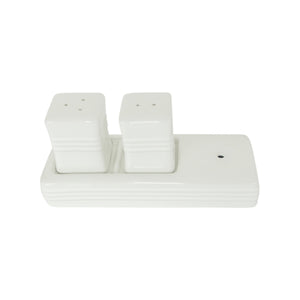 Nora Fleming
Pinstripes Salt & Pepper Set
Regular price
$32.00
$0.00
Elevate your dining experience with our Nora Fleming Pinstripes Ceramic Salt and Pepper Shaker Set. Crafted with meticulous attention to detail, these shakers not only serve as functional kitchen essentials but also as elegant tabletop accents. The timeless pinstripe design adds a touch of sophistication to any table setting, making them perfect for both everyday use and special occasions.
Key Features:
Premium Quality: Made from high-quality ceramic, these shakers are durable and built to last.
Classic Pinstripe Design: The timeless pinstripe pattern effortlessly complements various decor styles.
Customizable: Pair these shakers with Nora Fleming's interchangeable decorative minis (sold separately) to match your theme or mood.
Easy to Use: With removable stoppers at the bottom, refilling these shakers is a breeze.
Gift-Worthy: Delight friends and family with a thoughtful gift that combines style and functionality.
Add a touch of elegance and practicality to your dining table with the Nora Fleming Pinstripes Ceramic Salt and Pepper Shaker Set. Whether you're hosting a dinner party or enjoying a quiet meal at home, these shakers will make every dining experience memorable.
Dimensions: 6.75" x 2.75" x 3"
---
More from this collection