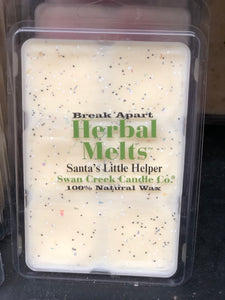 Swan Creek Candle Co.
Santa's Little Helper Herbal Melt
Regular price
$7.99
$0.00
Even Santa can use some help now & then! Festive Christmas sugar cookies are bursting with creamy Irish butter, luscious Tahitian vanilla and zesty orange peel. Adding a "Dasher" of bourbon and some "Rum-Rum Rudolph" makes Santa and his crew all set for the Holidays!