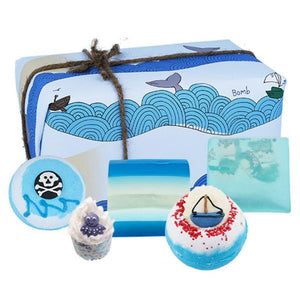 Bomb Cosmetics
Yeah Buoy Gift Pack
Regular price
$10.00
Sale price
$19.99
Dive into deeper waters and bathe your blues away. Head starboard and enjoy sparkling oceanic scents and cooling freshness as the essential oils bring in tides of revitalizing benefits.
This Gift Pack Contains:
Shiver Me Timbers Bath Blaster – We've got stolen goods from treasure island. The exotic May Chang & Mandarin essential oils are closely guarded and infamous for refreshing and revitalising even the most tired traveller.
Octopi my Heart Bath Mallow – Let this little guy lovingly wrap all 8 arms around you as the Majoram & Bergamot pure essential oils warm your cockles and help you seas the day!
Dunk-in Sailor Bath Blaster – What we gonna do with a drunkin sailor early in the morning? Get them ship shape again with this sea salt scented bomb voyage! Soaked in peppermint & eucalyptus essential oils it'll have you singing sea shanty's among the waves in the tub!
Dead Sea Salt Soap – An ancient and natural purifying remedy. Ideal for revitalising and nourishing tired and dehydrated skin. With a real salt crust (perfect for sloughing any dead skin) and Eucalyptus essential oil, this soap has the power to resurrect! A complex fragrance, featuring Sandalwood Vetiver and Olive Base notes, with a fresh herby heart and Bergamot top notes.